Frequently Asked Questions (FAQs) –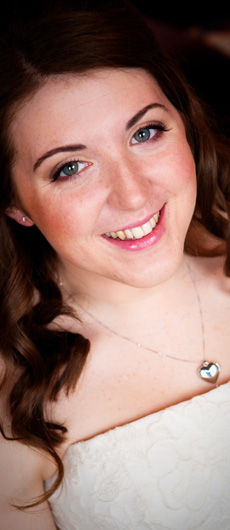 What do I get as standard?
A pre-wedding photo shoot lasting approximately twenty minutes with an 8″x6″ complimentary print.

(It's a great way of breaking the ice and ensures that you are both really comfortable in front of the camera, ready for your big day. Also, yours to keep is a fantastic pre-wedding picture of you both).

Full wedding day coverage i.e. bridal preparations through to your first dance.

(In essence, it's capturing the whole of your wedding day)

Secure online gallery for viewing wedding images.

(Allows both you and your guests to view the images of your wedding in a password protected area of the website).

A 11″ x 8″ Photo Book containing 40 wedding images.

A non-licensed Memory Stick containing high resolution images of the wedding.

(This is a media device that contains edited high resolution images of your wedding day. These are yours to share and can be emailed, copied, printed and reproduced at your convenience).
Do I get an album?
The standard package comes with a 11″ x 8″ Photo Book containing 40 images of your special day. However many of our couples choose a larger specifically designed album for themselves and then create mini albums for family and friends using the images on the memory stick. Alternatively you can use the memory stick and create your own unique style of wedding album yourself.
How does your package differ from other photographers?
All images from your exceptionally special day are yours to keep and share as you'd like.
It's your day so I'd like you to have your all images rather than simply choose a selection. I also offer a professional printing service. The charge for this is limited to cover the cost of professional printing and postage so you're not buying your pictures again.
What preparation do you do?
The first part is getting to know you at the pre-wedding shoot and understanding what you'd like from your wedding photography.
I always go to the wedding and reception venues a few weeks beforehand to work out a plan for the day. I also meet the clergy (if applicable) and the reception venue manager to ensure that everything will run as smoothly as possible on the day.
You with then receive a detailed wedding photography plan around two weeks before your wedding.
Do you offer a contract?
Yes, this ensures that both parties fully understand the agreement and have a copy of what's been documented.
Do you have back up cameras and lenses?
Yes, I have multiple camera bodies, lenses and flash guns etc. Absolutely nothing is left to chance.
Are you fully insured?
Yes, all professional photographers should be.
What happens if you are ill?
Although this has never happened it's important to ensure there is cover for all eventualities. I have agreements in place with other photographers so that we cover each other in the event of an emergency.